All our turkey's are dry feathered by hand. They are then hung for a minimum of 10 days to allow maturation to take place and to enhance the flavour. When the turkeys are dressed the sinews are pulled to assist carving and we vacuum pack the giblets to keep them fresh.
Tollgate Farm Turkeys are presented wrapped in grease proof paper in a carry home box with a sprig of herbs, cooking instructions and a cooking timer.
Tollgate Farm Turkeys carry the Totally Traditional Turkey Guarantee Of Satisfaction.
Money money will be refunded if not entirely satisfied with our product.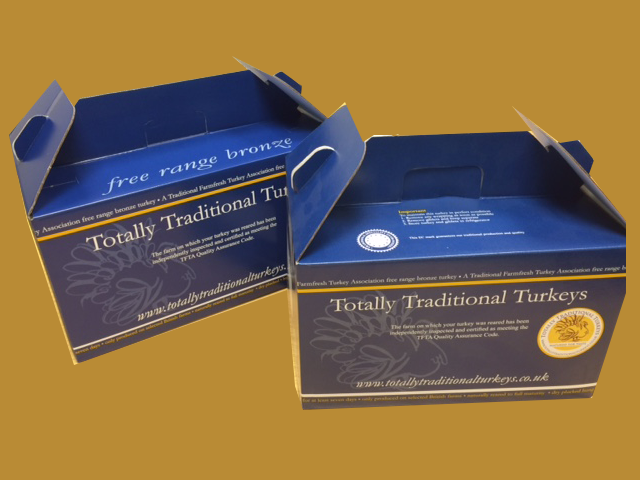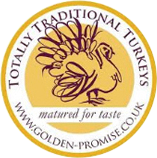 Totally Traditional Turkeys Quality
When you order a Totally Traditional Turkey you can be sure of the tastiest possible Christmas meal. Our 12-point Quality Assurance Code guarantees that our turkeys are:
Reared and produced with the greatest care by independent farmers, dedicated to producing the finest turkeys.
Grown slowly to full maturity.
Fed rations containing at least 70% grain with no animal protein and never given additives for growth promotion.
Housed in buildings giving both light and ventilation while providing essential weather protection with space at or better than Animal Welfare Code recommendations. Free range stock have open daily access to grazing for at least 11 weeks.
Always handled with extreme care by experienced staff under the personal supervision of the farmer.
Regularly bedded with comfortable straw or soft wood shavings.
Grown on farms independently inspected to ensure that the code is met in full.
Slaughtered on the farm to avoid stress of long distance transportation.
Always dry plucked and hung for at least seven days to mature and develop the natural flavours unique to this traditional type of production.
Processed in facilities inspected by the Environment Health officer or Meat Hygiene Service.
Individually inspected to qualify for the Totally Traditional Turkey guarantee.
Supplied with a money-backed guarantee in the unlikely event of consumer dissatisfaction.
EU legislation provides a system to protect food names on a geographical or traditional recipe basis. The System highlights regional and traditional food whose authenticity and origin can be guaranteed. Wine & cheese were some of the first to benefit, and within the UK the Traditional Farmfresh Turkey was the first product to gain recognition with a designation for Traditional Speciality Guaranteed.
The regulations state that to qualify a product must be traditional or established by custom Distinguishing features of the Product must not be due to the geographical area it is produced in, nor entirely based on technical advances in methods of production.
The scheme requires annual inspections to ensure that protected products continue to comply with specifications. It protects registered products against imitation throughout the ED and enables them to carry an ED symbol to help consumers recognise their traditional authentic nature.